Welcome to the 100th Episode of the Top Shelf Podcast!
I couldn't think of a better way to spend it than with the brilliant Julia Armfield talking about her debut novel, Our Wives Under the Sea. You may remember that Julia was my guest for Episode 32. Back then we discussed her fantastic book of short stories, Salt Slow. For this episode, we talk about her new release, Our Wives Under the Sea, which is a gorgeous debut that is a fathomlessly inventive and original portrait of marriage as we've never seen it before. Critics are raving and I wouldn't steer you wrong in the ocean of books out there – please don't miss this episode and don't miss this book. Thank you so much Julia!
Julia Armfield recommends: Devil House by John Darnielle; Matrix by Lauren Groff; X by Davy Davis; Into Thin Air by Jon Krakauer; The Monsters of Templeton by Lauren Groff
Place your holds for Julia Armfield's books here.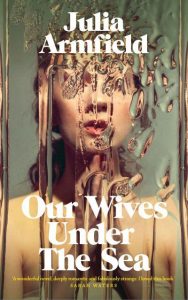 Podcast: Play in new window | Download
Subscribe: Google Podcasts | Amazon Music | Stitcher | TuneIn | Deezer | RSS | More