"Reading is the whole reason to be alive", says Erin Somers in this episode.
I couldn't agree more.
So what are your plans for this weekend? Make sure it includes, Stay Up With Hugo Best by Erin Somers.
Our main character, June Bloom, is twenty-nine, broke, and an aspiring comedy writer. Hugo Best is a beloved late-night chat show host – and notorious womanizer – who invites her to his mansion for Memorial Day Weekend.  Stay Up With Hugo Best is the story of their four days together.
What a fabulous conversation I had with Erin about this book…we talked about many things, but no spoilers here.  She's in the midst of her book tour and speaking at the Center for Fiction tonight (5/23rd) in Brooklyn. Get your tickets now, and then visit Erin's website http://www.esomers.com/ or find her on Twitter at: @somerserin.  I'm thrilled to have hosted her and cannot wait to have her back.
Two books Erin mentioned as must reads: The Falconer by Dana Czapnik and Three Women by Lisa Taddeo.
Place a hold: Stay Up With Hugo Best 
#GiveAListenReadTheBook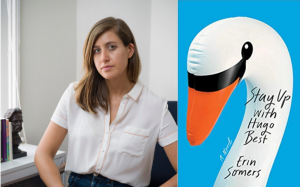 Give a listen, read the book.
Podcast: Play in new window | Download
Subscribe: Google Podcasts | Amazon Music | Stitcher | TuneIn | Deezer | RSS | More