What can I say about Salt Slow by Julia Armfield? This book was the stand-out for me, or a sit-down, because once I started it, I never left my beach chair. From the very first story, Mantis, to the award winning, The Great Awake, it will be hard to put down. Publisher's Weekly calls Salt Slow by Julia Armfield, "unsettling, uncanny and an utterly delightful debut." All true. It's the first time I've covered this genre on Top Shelf and I'm thrilled to bring this interview to you.
One of the things we discussed were our favorites in the genre and Julia recommended Fen by Daisy Johnson, and titles by Sarah Hall.   My go-to authors in this genre are: Clare Beams, Angela Carter, Karen Russell, and Carmen Maria Machado. We also talked Stephen King, but really, who doesn't?
I was so happy to speak with Julia Armfield about this incredible debut collection, Salt Slow. It hits shelves in the US, October 8, 2019. If you're in the UK, it's out already-don't. miss. it.
Very special thanks to Flatiron Books, you guy rock.
#GiveAListenReadTheBook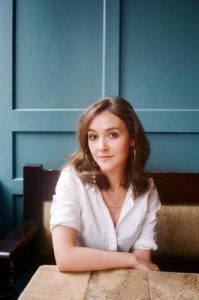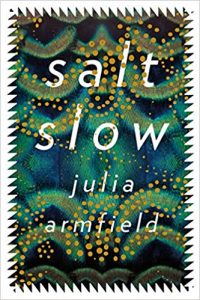 Podcast: Play in new window | Download
Subscribe: Google Podcasts | Amazon Music | Stitcher | TuneIn | Deezer | RSS | More