"How had I only just learned that happiness and fulfillment were entirely distinct things?"  ~The Lost Apothecary by Sarah Penner
That's only one of the many gems in this fascinating debut by Sarah Penner,  and I simply cannot thank her enough for joining me.
I was transported to 18th century England to a time where some women had no choice but to seek out revenge with the help of The Lost Apothecary. I could feel the cobblestone streets beneath my feet and was absolutely spellbound. We spoke about crime and forensics in the 1700s and a whole lot more.
Listeners, you're in for a treat!
Readers? Even more than that… I'll quote Sarah Penner with this synopsis of her debut:
"It's perfect for readers who love:
-secret, hidden alleyways in London
-apothecaries, herbalists, witches, poison
-magical tinctures & spells
-antiquated ephemera like old maps/manuscripts
-unlikely friendships among women
-women exerting control in clever ways."
So, yes.  Raise your hands, listen to the interview and order this book!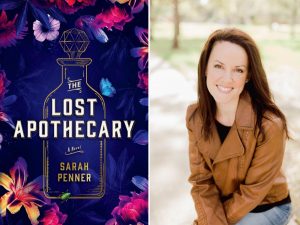 Podcast: Play in new window | Download
Subscribe: Google Podcasts | Amazon Music | Stitcher | TuneIn | Deezer | RSS | More