What a thrill to welcome back Cadwell Turnbull to the podcast! Cadwell was here for E41 and his debut THE LESSON. Now he's back to talk about the first book in his brand new and very exciting Convergence Trilogy, NO GODS, NO MONSTERS. We talk about alot in this episode including what it's like to write a trilogy, no easy feat!
"As creatures from myth and legend reveal themselves to be real, we're reminded that people often are the actual monsters. Turnbull's prose is gorgeous and lush, using contemporary fantasy as a lens to examine real-world oppression and injustice." Those are my words from the Library Reads Top Ten Books of September 2021 for NO GODS, NO MONSTERS! I was honored to be chosen to cheer on the new book.
Thank you so much for joining me Cadwell – it was terrific and I cannot wait for book two!
Cadwell Turnbull recommends: Never Have I Ever by Isabel Yap; the Murderbot Series and the entire Martha Wells collection; Naomi Novik collection; Emily St. John Mandel collection; the Martine Arkady collection.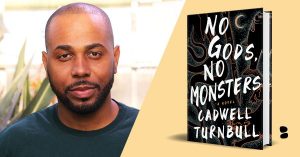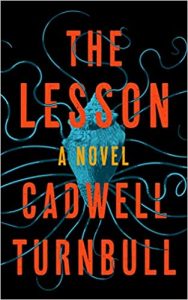 Podcast: Play in new window | Download
Subscribe: Google Podcasts | Amazon Music | Stitcher | TuneIn | Deezer | RSS | More