Ivy Lin was a thief but you would never know it to look at her. So starts the compelling debut, White Ivy, by my guest for this episode, debut author Susie Yang. 
White Ivy is a coming-of-age novel that is a nuanced exploration of class and race filled with surprising twists and a glimpse into the dark side of a woman who yearns for success at any cost. All I can say is good luck trying to make dinner when you're halfway through the book!  We had a terrific conversation that included how she got the news about making the NYT Bestseller list, getting the Shondaland treatment, and more! I am thrilled she stopped by to speak with us… thank you so much Susie!
Susie Yang recommends:   The Line of Beauty by Alan Hollinghurst and The Patrick Melbourne Novels by Edward St. Aubyn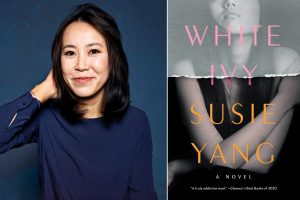 Give a Listen, Read the Book!
Podcast: Play in new window | Download
Subscribe: Google Podcasts | Amazon Music | Stitcher | TuneIn | Deezer | RSS | More